BEV Shops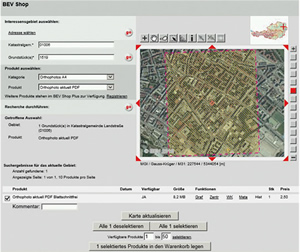 The BEV Shops on www.bev.gv.at offer direct access to the spatial data of the BEV. They facilitate for example research and download of extracts from the cadaster and so in many cases save you the trip to the cadastral office or the land register office.
BEV Shop
The BEV Shop is a basic service and facilitates research and ordering of predefined products for all of Austria.
BEV Shop PLUS
The BEV Shop PLUS offers advanced research and combination possibilities. All spatial data of the BEV are provided in different data formats. This shop is especially for customers who need a broader range of processible products.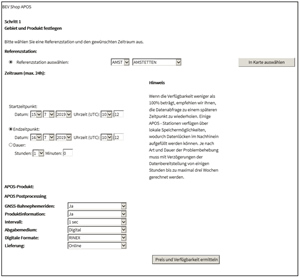 BEV Shop APOS
The BEV Shop APOS facilitates the access to data from all APOS reference stations for post processing applications as download.
To use the BEV Shop PLUS and the BEV Shop APOS you have to register free of charge on www.bev.gv.at. You can find the up-to-date prices for our products in the Standard Charges and Licensing Conditions of the BEV.
You will find our BEV Shops here.